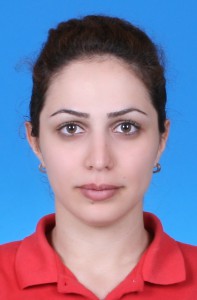 PhD. Student (2010/2011 – XXVI cycle)
Education
Universiti Teknologi Malaysia, Malaysia
Master's degree (M.eng) in Electronics & Telecommunication Engineering – Nov 2009.
Islamic Azad University, Iran
B.Eng, Electronic Engineering – Jul 2005.
Research Interests
Network security

Privacy preserving monitoring systems



Security in Software Defined Networks



Publications
Hanieh Rajabi, M. Nadzir Marsono, Alireza Monemi. "A Framework for Automated Malcode Signatures Generation". Proceedings of 2010 IEEE Conference on Research and Development, 13 – 14 Dec 2010, Putrajaya, Malaysia.
G.Bianchi, H.Rajabi, M.Sgorlon. "Enabling Conditional Cross-Domain Data Sharing via a Cryptographic Approach". Proceeding of 2011 IEEE Workshop on Collaborative Security Technologies (CoSec 2011).
A. Caponi, H. Rajabi, G. Bianchi, "Fine-grained disclosure control in Cross-Domain Monitoring Data Sharing", Extended Abstract, GIRPR Summer School on Computer Security and Privacy, "Building Trust in the Information Age", Cagliari, August 2012.
H. Rajabi, A. Caponi, "Fine-grained Disclosure Control for Monitoring Data Sharing", 6th International Conference on Security for Information Technology and Communications, SECITC 2013, Bucharest, Romania, 25-26 June 2013.
Contacts
Mailing Address: Via del Politecnico 1, 00133 Roma.
Email: hanieh.rajabi@uniroma2.it